My Everyday Magic by Kellie-Anne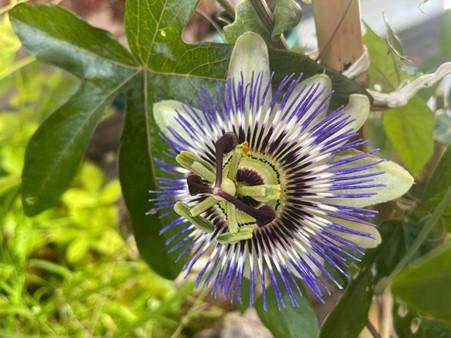 The magic of connection…
It's a strange sort of phenomenon when the life you have gets in the way of the life you want.
I have found that a lot on my journey into the craft.
It isn't as sad as it sounds, it's just that the modern lifestyle doesn't seem to lend itself very well to the freedom of the craft.
I have however come across some interesting ways to bring more of the craft into my life on a daily basis. Most of them only take a couple of minutes and team up nicely with what I feel I 'should' be doing.
Mostly I find it's about connection..
I find carrying crystals connects us to our manifestations, heals our bodies, minds and souls… I tend to always have a protection and a grounding Crystal, like tourmaline or Jasper either in tumble or bracelet form… all I have to do is touch it to remind myself to come back to centre… I choose crystals usually according to situation or need. I also use gridding in the home to attract abundance in certain areas of my life.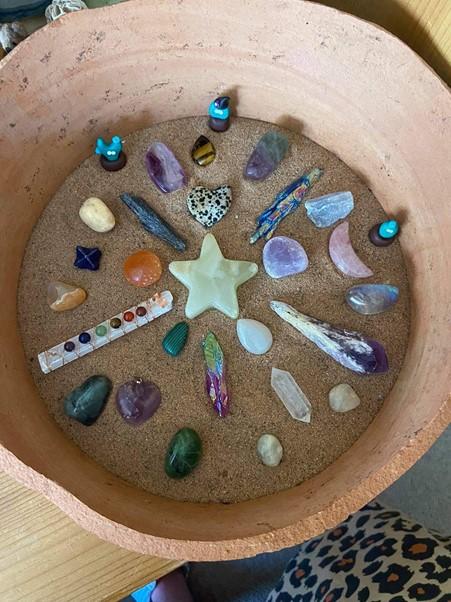 Candles I use to connect with meditative and peaceful practises and again to connect with the universe and manifestations, choosing the colours I feel most drawn too. I find black for protection, blue for peace and pink for love seem to be my go to. I sometimes write my intentions onto paper and sit the paper beneath the candle, or I etch them into the candle itself using a pin.
I use tarot, runes, and oracle cards to connect to my higher purpose and when I feel I need guidance. I also practise doing this with like minded friends so that we can help each other out. It feels like a good way to connect, especially across the miles.
I connect with the elements as often as is humanly possible, planting herbs for spells and putting intention into cooking. I am very drawn to water, to this end I use moon water to connect with the balance and to the shifts in the cycle of the earth. I also add essential oils to showers and baths to manifest or just to relax and unwind. I also like to burn herbs and intentions particularly at new and full moon and at Samhain.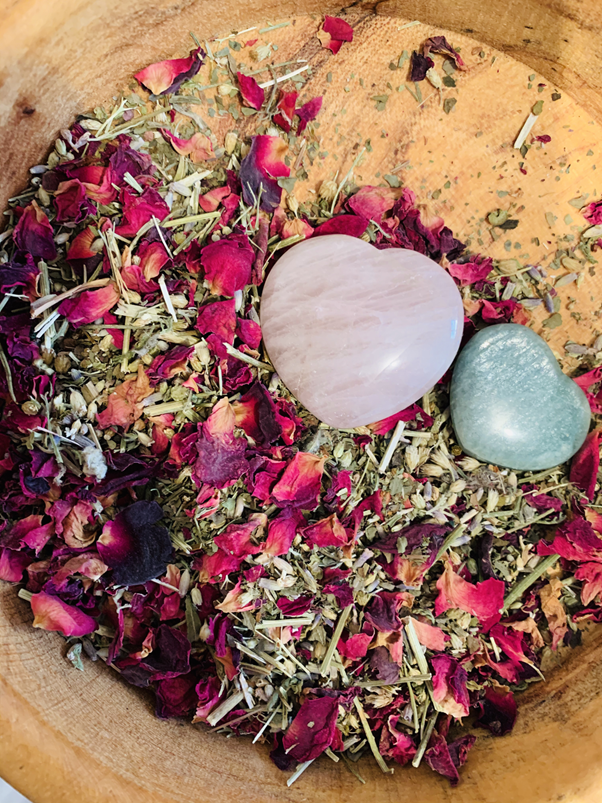 The strongest and truest magic I find though is in the like minded individuals I have come across on my journey. The strength, power, love and learning is at its most Divine when we are all in it together…
This is the true magic found in the sharing and support. Individually we are powerful… connected we are unstoppable.
When we work and manifest together, for ourselves or on behalf of another person we are not just finding our own power but we are amplifying theirs too, this creates a wave and the universe responds for a kind of magic we can experience through both our physical and spiritual beings.
When I speak to others and hear their story I can feel their magic both face to face and online, when we meet each other where we are now and not where we are expected to be our souls connect rather than just an alignment of interests and common ground.
We cannot connect to anything if we are constantly trying to mould it to fit our ideals. We are all magical and we all walk our own path. The connections we make along the way are fundamental, both to our learning and to our hearts.
In a world where time is ever elusive connection to our craft and each other is what keeps our magic alive.
Never have the words give and you shall receive had a stronger meaning… I have gained so much through connection to the universe and all that is in it.
Love and Light
Kellie-Anne Firman x