Messages from tea.



Fortune Telling with Tea.
Some of you may have seen the amazing Fortune Telling Tea Cups that came into stock last month. I completely fell in love with them for two reasons; firstly they are just super pretty and secondly they took me and my mum on a lovely, reminiscent journey.
I remember as a child my great grandmother Dolly reading tea leaves.
My mum told me tales (over tea of course) of when she used to take her along to the local spiritualist church when she was a child - it was such a beautiful afternoon being able to learn more about my great grandmother.
This prompted me along with my new beautiful cup to learn a little more about this divination practice and I wanted to share with you what I'd learnt. Don't get me wrong I am by no means an expert in this at all lol!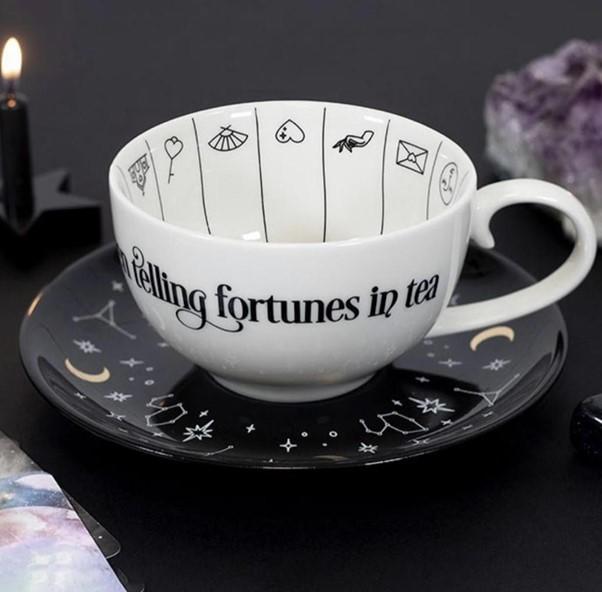 Nevertheless this is what I learnt;
Tasseography as it's technically known is the skill of reading tea leaves by identifying symbols within them and interpreting messages from these images.
As when using other divination tools such as Oracle cards or a pendulum for example you can ask the tea leaves a question, they will offer advice and guidance via their density and placement.
How do you do it?
So take your teacup, place your loose tea leaves directly into the cup, no need to use a strainer and pour over the hot water.
Next, hold the cup in your hands take some time out to think about your question, what you'd like some guidance with. Ask the leaves to help you with this. Once cooled, slowly and mindfully sip your tea, all the while focusing on your question.
Once you have just a couple of teaspoons worth of water remaining; hold the cup in your left hand, swirl it clockwise three times.
Then very slowly and gently turn the cup over on to your saucer. Keep upright for a few moments and then swirl again three times before turning upright.
Now's the fun part! Let's look for the symbols and signs!
Here's a little guide for you;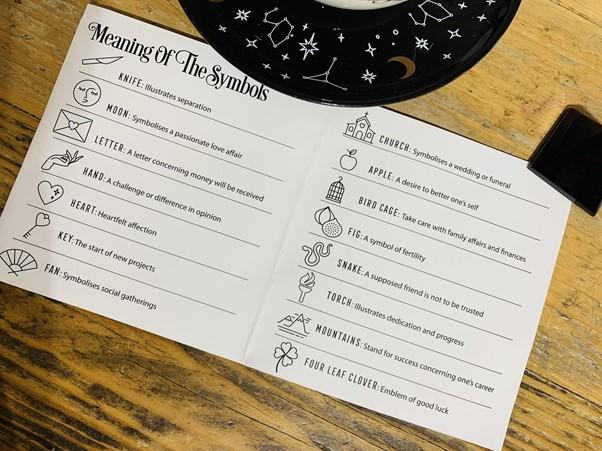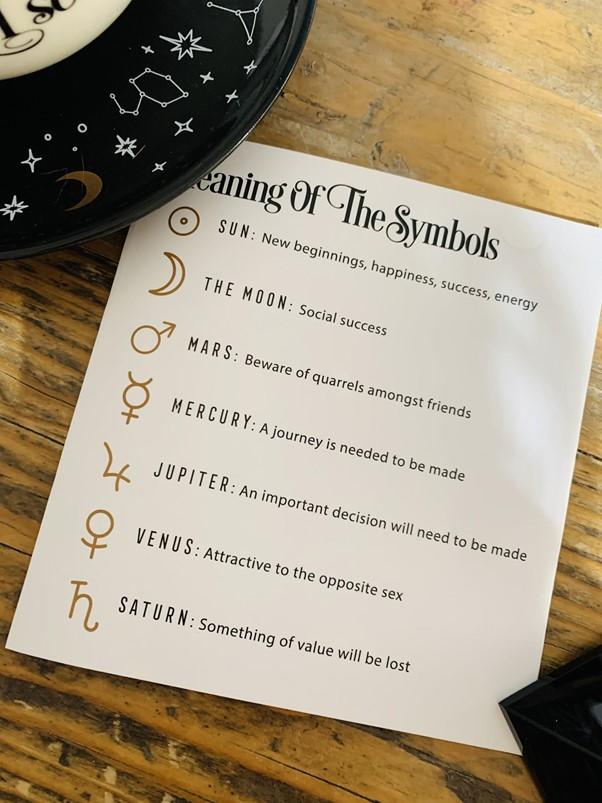 I'm so excited to start this learning journey with tea.
Do you read tea leaves already?
Maybe you're going to give it a go now?
I'd love to hear about your journey or what the leaves had to tell you, maybe you could share it over in the Facebook group.
Much love as always,
Cheryl xxx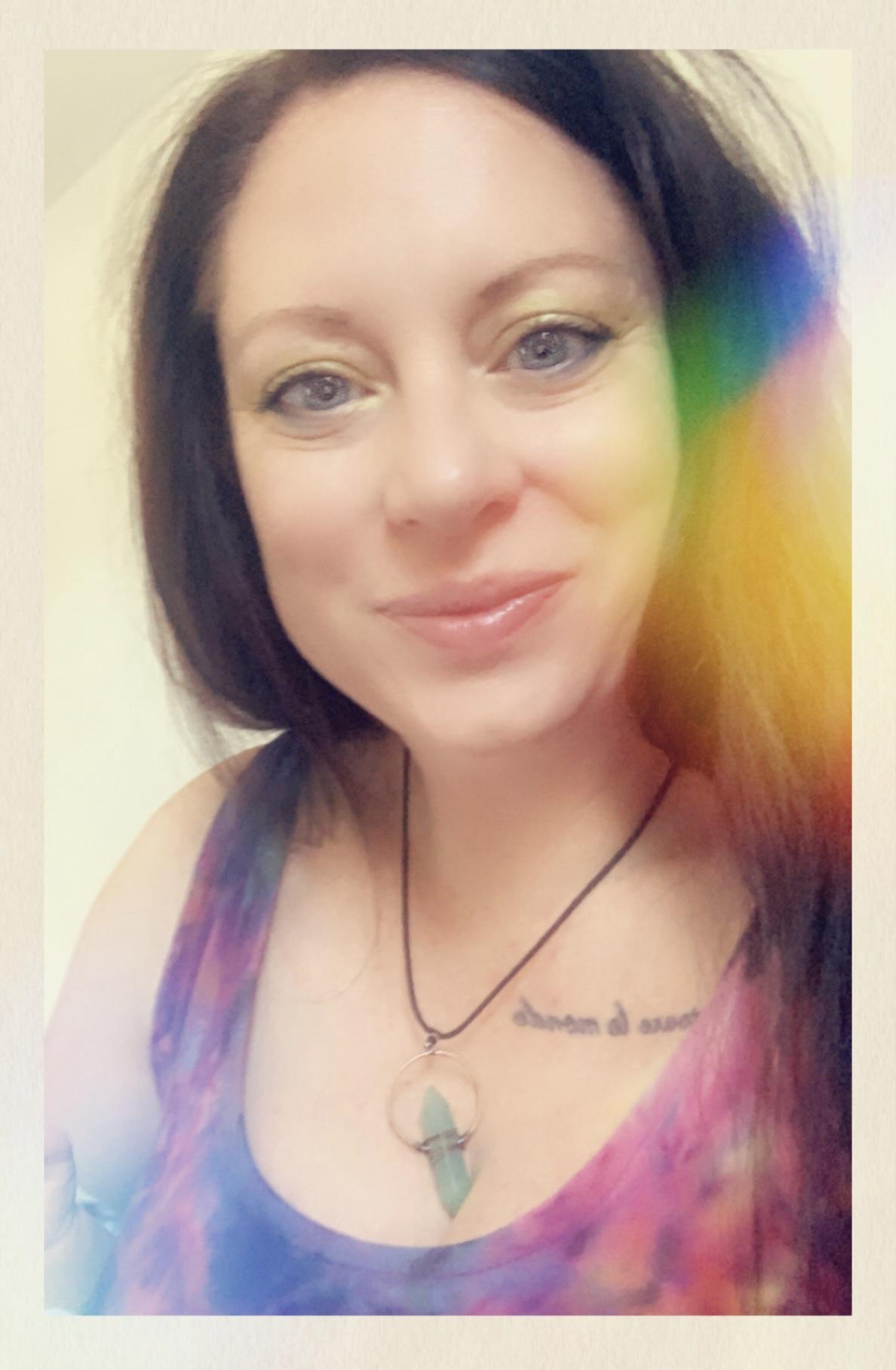 Here are some of the ways I can help you:
1. My FREEBIES.
✨How ready are you to manifest the life you desire?
Take my quick quiz to discover where you are on your manifesting journey. Based on your results, you'll recieve my guidance on how you can supercharge your manifesting success. Click here to take the quiz.
✨ My 'How to Embrace Your Inner Witch to Manifest Abundance' guide shows you the white witchy ways you can add a little extra magic to your manifesting with Crystals, Moon Magic, Herbs and more! Click here to get your free copy.
2. The Unleash your M.A.G.I.C™ Membership
✨ Something beautiful happens when a group of incredible people come together and support each other! It's pure magic. Work on manifesting the life you truly desire alongside others working towards the same goal - to achieve their dream life! I will give you all the tools you need to feel confident and capable of taking those next steps, to move you forward and ticking those goals off your wish list. Join us for just £7/month. For more info click here.
3. Unleash your M.A.G.I.C™ The Journal
✨This journal perfectly combines the woo and action-taking to assist you in manifesting the life you truly desire! Get started by ordering your copy here!
4. Shop for pretty crystals here!
✨My range of crystals are ideal for supporting your life with their powerful properties.