How to create the perfect vision board.

Why make a vision board?
What better way to love yourself than to confirm your dreams and desires to the Universe.
If you have been thinking about creating a vision board then I'd love you to take this as your sign from the Universe and get going. Let's really connect with what you want in your life.
Often, we don't allow ourselves to dream big. This can be for numerous reasons: you don't think you are worthy of the things or are scared you might fail but, even if just for today, I'd love you to really think about what you desire.
And a vision board is a fabulous way to let the Universe know what you want.
I explain it as like when you were a child and your parents gave you a copy of the Argos catalogue with a marker pen and asked you to circle all the things you wanted.
Remember that feeling?
How excited were you?
That realisation that all you want will be coming into your world soon.
Manifesting is the same but now the Universe is your catalogue
I often see people panic that they don't know every little detail about how they are going to achieve their big dream.
This holds them back and keeps them stationary.
As a self-confessed former obsessive compulsive, I completely understand that starting a journey without knowing all the steps is hard. It's that uncomfortable fear of the unknown and lack of control…
But we need to surrender to the Universe. Let go of the little details and trust that the Universe will guide us.
I often liken it to going away on holiday.
We got in the car knowing our dream destination: Filey. But we didn't know the exact details of how we were going to get there.
We didn't need to.
We just needed to know the next step.
We switched on the Sat Nat, and trusted that it would guide us. And she did, one step at a time.
Just like the universe will guide you to your dreams!
Some benefits of a vision board.
Get clear on your goals - a vision board can help you get crystal clear on what goals you want to achieve in your life. You are taking time out to really focus on what matters most. You may even realise some things you actually don't want or need. It will help you to focus your attention on the important things when working towards your dreams and desires.
Helps get you motivated - Looking at your vision board is a fantastic way to boost your motivation, and stop procrastination. Each time you look at it and check in with your dreams you are bound to want to get cracking and start working towards achieving your future life.
Make us more productive - We can all feel stuck at times, procrastinate or simply just lack the energy to complete a task. Looking at your vision board and really connecting with your goals and dreams can help you get motivated, stop that procrastination and inspire you to get working towards those goals
Improves your chances of success - Just imagine how much more motivated you will be to work towards your goals and dreams if you are checking in with them every. More motivation = more action = more results. A vision board helps you to become crystal clear on your dreams and remain focused and therefore succeed.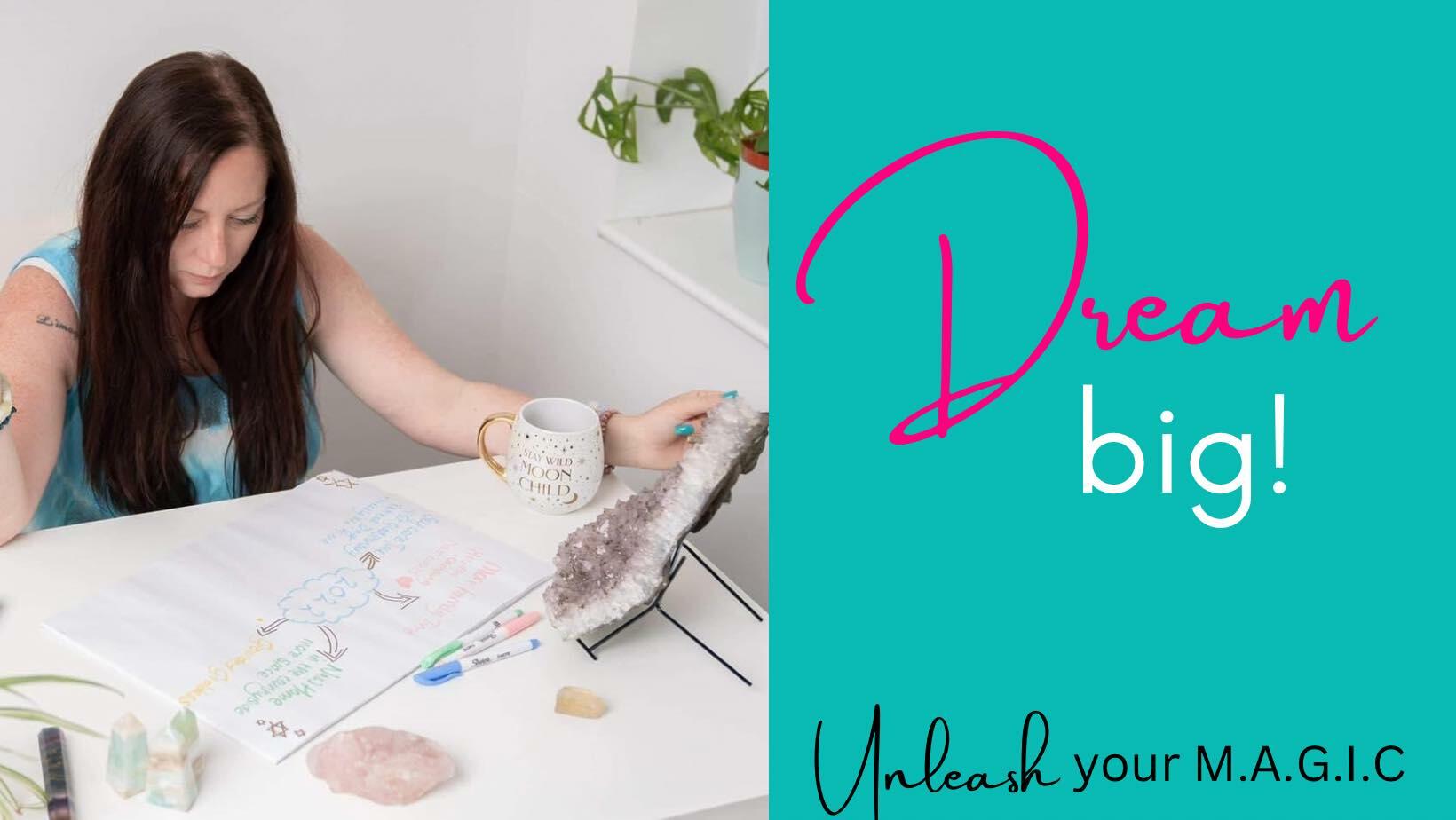 Here are my 5 steps for you to follow…
~ Check in.
Where are you at now?
How did this year go for you?
What have you achieved? What went well?
~ Heartstorm.
I call it heartstorming as I want you to think with your heart rather than your brain. Think about what goals you want to achieve. Consider all areas of your life. Work, family, free time etc.
~ Find Images and Words.
Go through magazines, or print from the internet lots of images, quotes and affirmations that represent your goals.
~ Put your board together.
Grab that glue and let's get everything stuck down. The layout is completely your choice; you can go random or section the board off into different areas of your life. I like to embellish with a little bit of glitter too!
I'd love you at this point to connect more deeply with your goal, rather than just surface level, you will really help to cement your vision, help to keep you motivated and ensure you are moving forward.
How do you do this?
Visualise achieving your goal.
Now focus on how you will feel.
What are your emotions?
How do they show up in your vision?
For example, one of my biggest dreams is to own a campervan.
But it's not really the physical item that I desire.
It's the freedom.
Freedom to be able to travel.
To be able to just hop in the van and go whenever I desire.
The magical feeling of seeing the sunrise over the sea, the smell of the sea air, the feeling of the sand between my toes.
I see myself laughing, smiling, and feeling open and free. Pure joy.
It's not just a campervan I dream of. It's so much more.
So consider here, what is your goal really about?
Freedom? Love? Creativity? Family?
Bring those feelings alive in your vision board too!
~ Put it up.
Hang your vision board somewhere that you are going to see it everyday. And take the time out to look at and feel those goals on a daily basis. By doing this, it will keep you motivated and open to the opportunities that the Universe brings to you.
Another little tip:
Take a picture of your board. Use this as a digital version and add it as the screensaver for your phone, laptop and computer.
Let's be honest, how many times do you pick up your phone each day?
The goal screensaver means every time you look at your phone, you are reaffirming the dream and bringing it to your thoughts. This will really help to anchor those desires as you will see them more frequently.
If you want to learn more about manifesting your dreams into reality and effectively co-creating with the Universe, join me and a beautiful like-minded community inside my Unleash Your MAGIC membership for just £7/month.
https://www.cherylbeckworth.com/unleashyourmagic
Sending you lots of of love, as always
Cheryl xx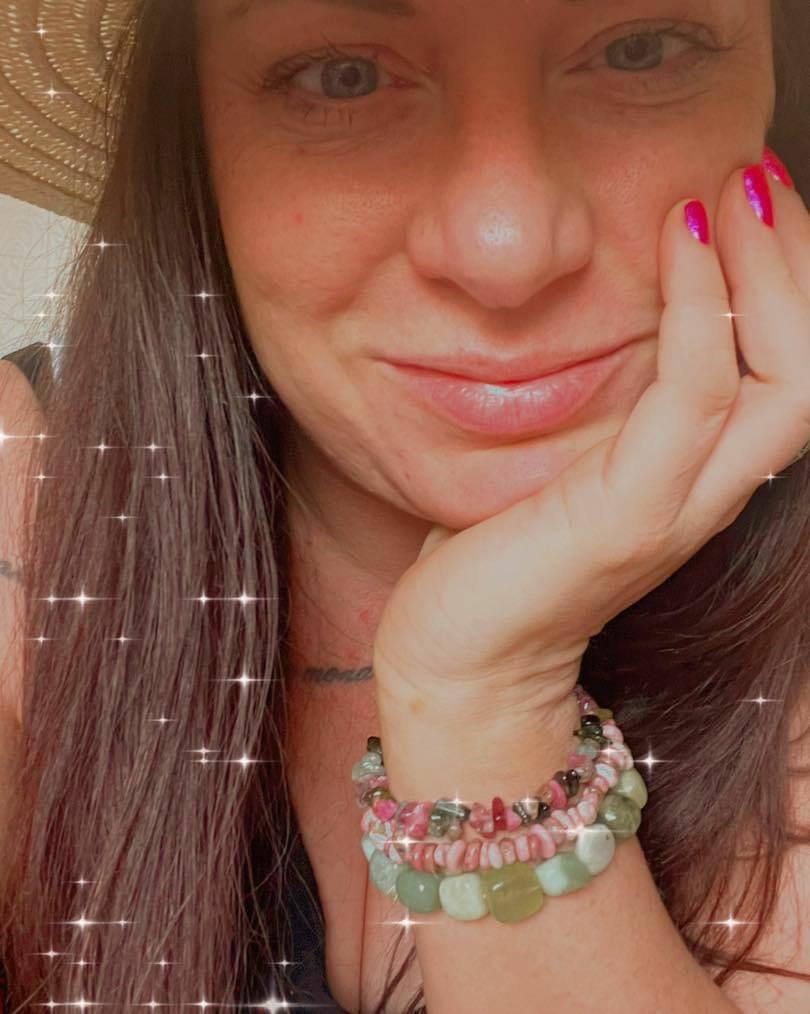 Here are some of the ways I can help you:
1. My FREEBIES.
✨How ready are you to manifest the life you desire?
Take my quick quiz to discover where you are on your manifesting journey. Based on your results, you'll recieve my guidance on how you can supercharge your manifesting success. Click here to take the quiz.
✨ My 'How to Embrace Your Inner Witch to Manifest Abundance' guide shows you the white witchy ways you can add a little extra magic to your manifesting with Crystals, Moon Magic, Herbs and more! Click here to get your free copy.
2. The Unleash your M.A.G.I.C™ Membership
✨ Something beautiful happens when a group of incredible people come together and support each other! It's pure magic. Work on manifesting the life you truly desire alongside others working towards the same goal - to achieve their dream life! I will give you all the tools you need to feel confident and capable of taking those next steps, to move you forward and ticking those goals off your wish list. Join us for just £7/month. For more info click here.
3. Unleash your M.A.G.I.C™ The Journal
✨This journal perfectly combines the woo and action-taking to assist you in manifesting the life you truly desire! Get started by ordering your copy here!
4. Shop for pretty crystals here!
✨My range of crystals are ideal for supporting your life with their powerful properties.